SBS Consulting Incorporated is a Disabled American Veteran Owned Small Business, founded in 2001 to address the unique needs of senior clients in corporations, government program offices and educational institutions.  We specialize in helping businesses achieve their vision —through strategic planning services, training and executive coaching. We have expert knowledge of the best practices espoused by both Patrick Lencioni and Geno Wickman, enabling our clients to achieve their goals. Our subject matter expertise in sales and marketing management and process improvement is unsurpassed.  Additionally, we have unique expertise in government procurement processes and the commercialization of advanced technology emerging from both academia and government research organizations.
Rear Admiral Stephen I. Johnson
U.S. Navy (retired)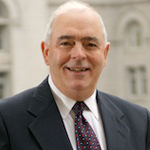 Rear Admiral Johnson's 30-year Navy career included command of the Nuclear Fast Attack Submarine U.S. CITY OF CORPUS CHRISTI (SSN-705); Director of Fleet Liaison, Division of Naval Reactors (NAVSEA-08), service as Major Acquisition Program Manager for Submarine Electronic Systems (PMS-401), Naval Sea Systems Command (NAVSEA); Program Director, Information Support Systems (PD-15), Space and Naval Warfare Systems Command (SPAWAR); and Project Director, Navy Year 2000 Project (CNO-N6Y).
Subsequent to his naval service, Admiral Johnson has served commercial industry, government program offices, and educational institutions as a senior management consultant. Admiral Johnson is a Managing Director of Source Companies LLC, an investment banking and value growth consulting company providing debt capitalization and growth advisory services to medium-sized, closely held businesses. He is the founder of SBS Consulting, Inc., providing strategic planning, senior program management, EOS ® (Entrepreneurial Operating System ®) implementation, subject matter expert, and sales and marketing consulting services to commercial customers, government organizations, and educational institutions.
Admiral Johnson has also served as a Technology and Business Advisor to the William J. von Liebig Center for Entrepreneurism and Technology Advancement at the Jacobs School of Engineering, University of California, San Diego and as a business consultant to the Entrepreneurial Management Center, San Diego State University. Admiral Johnson is a graduate of Duke University (Physics) and the Major Program Managers Course, Defense Systems Management College. He is certified and served as a Department of Defense Major Acquisition Program Manager (Level III).
Admiral Johnson served as the Chair of a Vistage Chief Executive Board of Advisors Group and a Vistage Key Executive/Small Business Group in Spartanburg, SC from 2008 to 2020, and continues to support the mission of Vistage to develop better leaders, who make better decisions, and get better results.  He is an expert consultant in strategic planning and business process improvement based upon the proven strategies of Patrick Lencioni and Geno Wickman. helping small and medium-sized business obtain greater business success.