September 17, 2017
Posted by:

Stephen Johnson

Category:

Vistage
Please consider finding a qualified charity and give to assist those affected by Hurricanes Irma and Harvey.
On the 16th Anniversary of 9/11 – forgive if you can, and never, ever, forget!
Disaster Response: Offense and Defense
The media coverage of the recent disaster in Houston and the on-going one in Florida has, quite rightly, focused on the plight of ordinary citizens. Most of the disaster response for these folks comes from government. In the meantime though, many CEOs in these areas have been focused on protecting their people, assets and planning for the recovery of their enterprise. We wish them all well.
One CEO, however, deserves a special shout-out. The owner of a grocery store chain in Houston is playing both offense and defense. While doing what he must for his company, he is making sure that the company is serving the needs of those affected by these catastrophes. Check out the inside story of one Texas grocery store chain's CEO who is playing both offense and defense in the face of disaster.
26 Ways to Be a Control Freak
The speed of change in the world leads many to think that their lives are increasingly beyond their control. The list below by Ruben Chavez at "Think. Grow. Prosper" can be kept handy for some self-therapy when required.
As one person said after reading this list: "In a world where so many things are outside of our immediate control, it's empowering to recognize and focus on the things that are within our control. Focus on what you can control, not on what you can't. Your attitude toward life determines life's attitude toward you."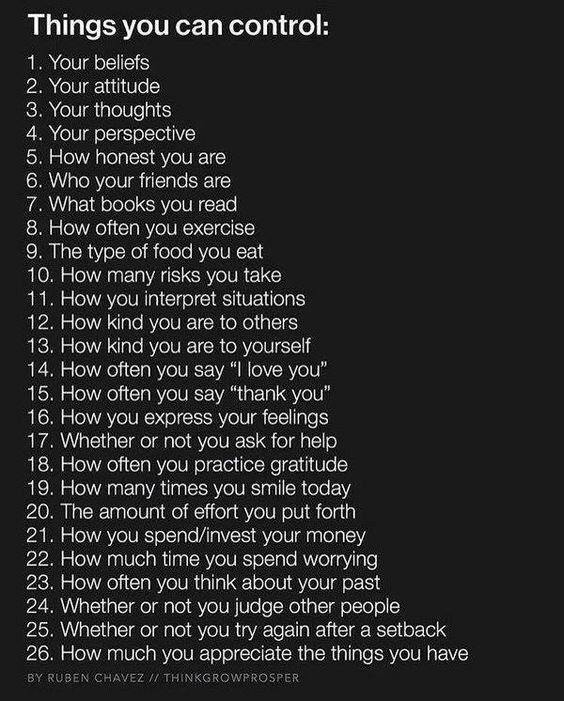 Econ Recon: Hurricanes
Irma Economics: Last week, economist Brian Wesbury shared his take on "Harvey Economics"; namely that the reconstruction of the Texas coast will not add that much, if anything, to the economy. This week as a monster hurricane approached Florida and the Southeast, he expanded his analysis of the real economic effects of recovering from disasters. 
Hurricanes and Energy: ITR Economics' Brian Beaulieu gives a quick recap of the effect of Hurricane Harvey on energy prices.